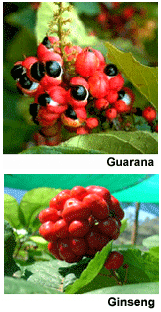 Why do we use Guarana, Ginseng and Beef in

Lightning Rods

™?


Guarana is used for its delicious flavoring and, of course, for the exponential caffeinated zap it promises! Ginseng assists the body to restore itself to health and it has valuable beneficial effects on sports performance. Beef provides Protein, all the Amino Acids and complex B-Vitamins to deliver the Guarana and Ginseng to the body in the most effective manner for sustained energy.

What exactly are Guarana and Ginseng? And what are their positive attributes?
Guarana are native to the Amazon basin and found especially in the rainforest of Brazil. While guarana features large leaves and clusters of flowers, it is best known for its fruit, which is about the size of a coffee berry. Each fruit contains about one seed, which contains approximately three times as much caffeine as coffee beans. A 2007 study assessed acute behavioral effects in typical doses of guarana extract. Memory, alertness and mood were increased, confirming previous results of cognitive improvement following consumption of guarana.

Ginseng grows in the Northern Hemisphere in Eastern Asia (mostly northern China, Korea, and eastern Siberia), typically in cooler climates; and also in Vietnam, where is the southernmost ginseng found. This herb, named in the Series Panax ginsengs, are the adaptogenic herbs, principally Panax ginseng and is promoted as an adaptogen (a product that increases the body's resistance to stress), one which can, to a certain extent, be supported with reference to its anticarcinogenic and antioxidant properties.

What is the SYNERGY™?
Synergy is a phenomenon where the parts together have a much greater value than they do individually. Lightning Rods are a prime example of a synergistic effect. The protein based stick is enhanced with Guarana and Ginseng. This process of combining these ingredients in unison creates added value to the caffeine promise in the Guarana, making it release in a more even and long lasting manner. The Ginseng acts as an additional benefit to aid in restoration and together they provide focus and cognitive elevation. The final synergy is provided by these natural enhancers forming the great taste of our Original Flavor!

Are Lightning Rods products gluten free?
Yes. There is no presence of gluten (gliadin) in the caramel color or high fructose corn syrup (sweetener) used in our Lightning Rods. Gliadin protein intolerance is generally associated with products derived from wheat, oats, rye, barley and millet. Lightning Rod products do not contain any of these grains.

Do you have any information on caffeine in respect to your Lightning Rods?
Yes. Please click here for additional caffeine-related information.
Are Lightning Rods inspected?
Yes. Our Lightning Rods are inspected and approved by the United States Department of Agriculture.
How do I submit my picture for the Minotaur Mad Skills Page?
If you possess a mad skill of your own and would like your photo included on our Minotaur Mad Skills page, please email your photograph to minotaur@powerhungryfoods.com. Please note that picture inclusion is at the discretion of Power Hungry Foods.

Your email must include the following:

| | |
| --- | --- |
| 1.) | Your photo (JPEG format - minimum of 400 x 400 pixels) |
| 2.) | Your full name |
| 3.) | Your mailing address (Street or PO Box, City, State, and Zip Code) |
| 4.) | Your date of birth (mm/dd/yyyy) |
| 5.) | Your consent for us to use your photograph on our website. Please see below. |
è
If you are over 18 years of age,

p

lease cut and paste the following into your email to us:

"I, type your name here, am over 18 years of age and agree to allow Power Hungry Foods LLC to use my attached photograph on their website for no compensation or royalties."
è
If you are under 18 years of age,

you will need to have your parent or guardian submit

your information on your behalf. Please have your parent or guardian cut and paste the following into their email to us:

"I, type your name here, am the parent or legal guardian of type the name of minor here. I agree to allow Power Hungry Foods LLC to use the attached photograph on their website for no compensation or royalties. For verification, you can telephone me at type your phone number here."
How do I get sponsored by Lightning Rods?
For active jox and x-game groms, we offer mad skills sponsorships. Tell us what accomplishments you have in your special sport and we will consider your request to be adorned with some "High Voltage" Lightning Rods gear, stickers and goods! Please submit your sponsorship request to minotaur@powerhungryfoods.com. Please include pictures, recent awards and a brief story about you, your dream and how you excel at your sport and/or activity.